Sunday 26 May saw gutsy Edinburgh Marathon performances by our athletes. With rain early on, puddles aplenty and an increasingly-brutal headwind after the turn, the conditions were those of a summer's day in East Kilbride!
Grant Baillie crossed the line 32nd of 7,301 finishers. He was also 4th M40.
It's a mark of the high standards Grant sets himself that he wasn't entirely happy with his time of 2:46:26. Most mere mortals would jump at it.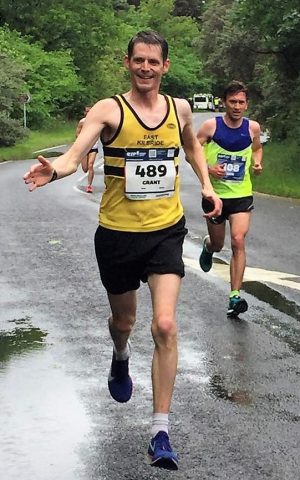 Vivien Thorpe at Longniddry, nearing the turn

'Just' 7 miles to go!

A marathon snake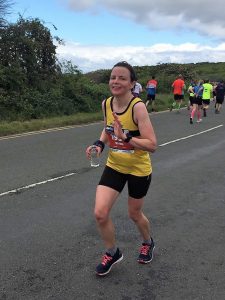 A month ago, Vivien Thorpe (F40) completed the 53-mile Highland Fling Ultra Marathon (Milngavie to Tyndrum along the West Highland Way).
In Edinburgh, she finished 28th F40 in an impressive 3:45:18 – just 3 minutes off her PB.
Both runs were family affairs for Vivien. She finished the Highland Fling within 1 second of her brother-in-law; in Edinburgh her 2 sisters and dad also completed the course.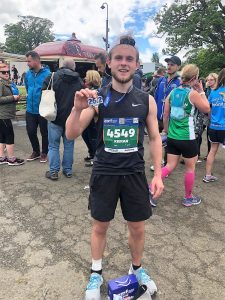 Edinburgh saw a first marathon attempt for Tuesday Group's Kieran Duncan, who clocked an excellent 3:54:06.
It was a great performance given that exams impacted his training.
(The Tuesday Group adult training group contains several club members and welcome new recruits. Ad break over…!)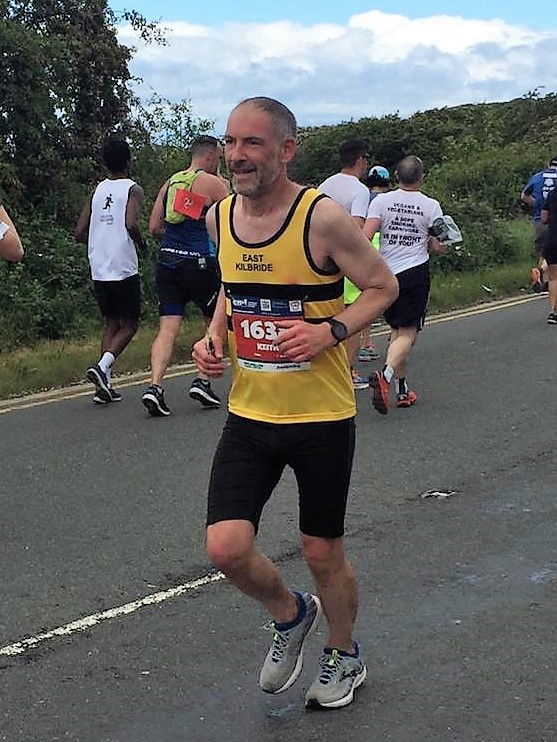 Keith Charters was also running his first marathon. Having been not far behind Vivien for first half, a major IT-band issue at 30km put paid to a meaningful time.
A Jelly-Baby-assisted painful 12km hobble followed, but he eventually made the finish.
The good thing about a first attempt is it always brings a PB if you reach the line.